In December 2004, Kenosia Construction began excavating the basement area which will become the  church hall and kitchen. They encountered  substantial rock which required days of machine work to break and remove.

This picture (taken 12/30/04) shows the excavater perched in the center of what will be the church. The material on the ground are thermal blankets covering the just poured concrete foundation footings.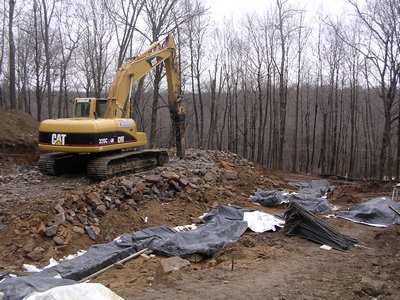 As of December 2004, the building project is now in full swing, and thus far we have been blessed with an unusually mild winter. Excavation of the basement is underway and the foundation will be poured soon. Framing and steel work are planned to begin in January 2005. Providing funds are available, the building may be ready for use in 2005, although with many deferred elements. Although these decisions will be made as the project progresses, some items currently planned for deferral are the onion domes, new commercial kitchen appliances, finishes for floors and trimwork, air conditioning, optional bathrooms, etc.  These and many other elements will be added over years as funding is available. Please consider helping with a donation of any size.